BACHELOR OF ELEMENTARY EDUCATION LEVEL II ACCREDITED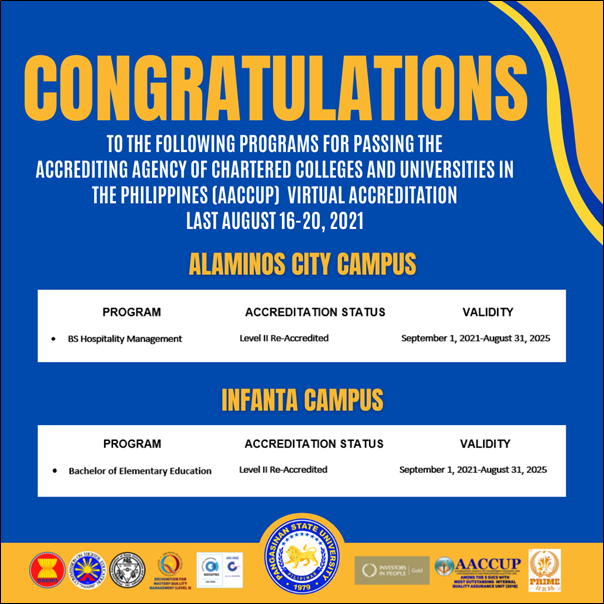 The online accreditation of the Bachelor of Elementary Education major in Enhanced General Education of the Campus happened last August 16-20, 2021 by the Accrediting Agency of Chartered Colleges and Universities in the Philippines, Inc (AACCUP). There were three assigned accreditors who evaluated the accreditation documents based on the AACCUP instrument. The accreditation proper involved the browsing of documents through the google drive shared to the accreditors, virtual tour and online discussion with the invited faculty members and other stakeholders.
This activity was spearheaded by the Campus Quality Assurance Office, headed by Dr. Salvacion M. Vinluan, together with the BEE Level Accreditation Task force, where there are assigned area chairs and digitizers across the ten areas of accreditation. The activity was also supported by the hardworking Teacher Education Program chairperson, Dr. Rosanna D. Gonzales.
The Campus Executive Director, Dr. Ian D. Evangelista, also joined the said activity, emphasizing the quality should always be part of the life of those who are involved in the molding of students. He also welcomed the accreditors virtually and thanked them for their effort in helping the Campus improve its program operations.
Lastly, during the closing meeting on August 20, 2021, the accreditors congratulated the Campus for coming up with a successful accreditation program.
BACHELOR OF SECONDARY EDUCATION
MAJOR IN SOCIAL STUDIES CANDIDATE STATUS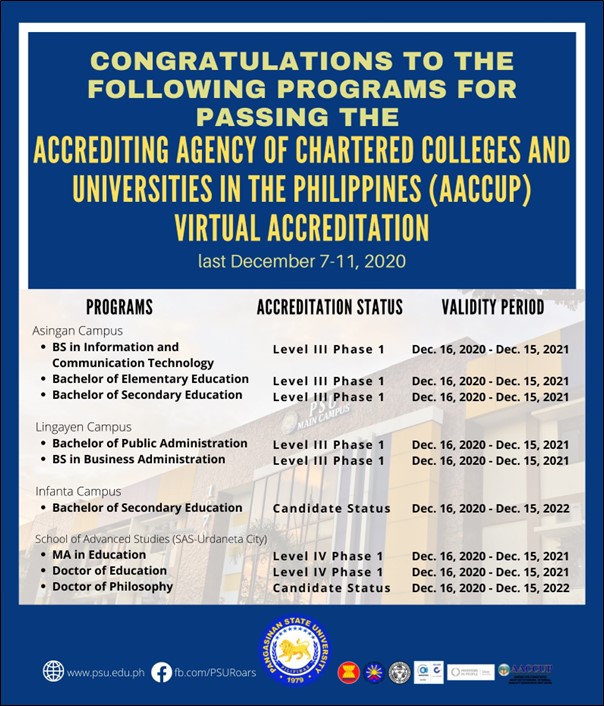 Accreditation is one of the quality assurance mechanisms of the University to ensure that its curricular programs are compliant to various regulatory agencies and is gearing towards continuous -quality enhancement. Last December 11, 2020, PSU Infanta Campus subjected its Bachelor of Secondary Education major in Social Studies for Preliminary Survey Visit by the Accrediting Agency of Chartered Colleges and Universities in the Philippines, Inc (AACCUP). Unlike its previous accreditation mode, due to the current global health crisis, the online accreditation was implemented. Through paperless transactions, all accreditation documents were digitized and were placed in an online repository, the google drive.
During the opening program, the University President highlighted the importance of undisrupted accreditation based on the available means, in accordance to our mandate of continuous quality management. After the short opening program, the assigned accreditor to the Infanta Campus was introduced, the experience Dr. Nilo Colinares, who was assisted by the Campus Accreditation Task Force, led by Dr. Salvacion M. Vinluan, the college dean and the campus quality assurance coordinato, and Dr. Rosanna D. Gonzales, the Program Chairperson of the Teacher Education. To ensure orderliness during the accreditation proper, various accreditation local counterparts were assigned and politely guided the accreditor in browsing the accreditation documents. After series of clarification and probing, Dr. Colinares congratulated in advance the Campus, for successfully presenting the accreditation documents.
During the closing program, the University and Campus Officials thanked the accreditors for exerting their time and effort in evaluating the programs of the University. The accreditors, on the other hand, congratulated the whole University Academic community for a successful online accreditation, despite some noted technical glitches and hindrances.
CERTIFICATE OF PROGRAM COMPLIANCE STATUS
DISTRIBUTION OF PROGRAMS GRANTED WITH CERTIFICATE OF PROGRAM COMPLIANCE (COPC) AS OF JULY 2022

Degree Program

CHED Order No.

BOR Resolution No.

Bachelor of Elementary Education (major in Enhanced General Education)

CHED RO1 ORDER No 09, series of 2018

BOR No 13 s 1986

Bachelor of Secondary Education major in Social Studies

CHED RO1 ORDER No 010, series of 2018

BOR No 13 s 1986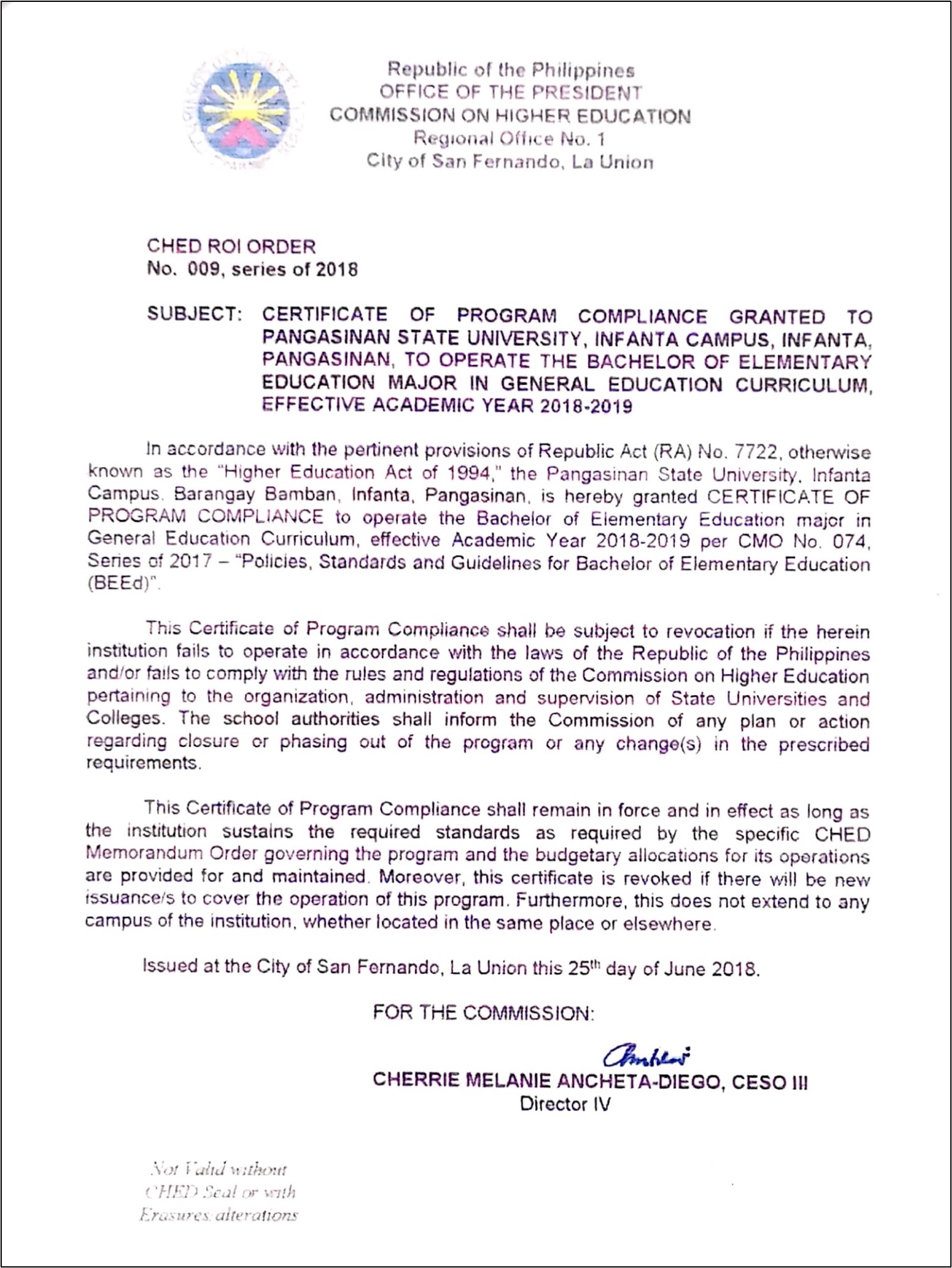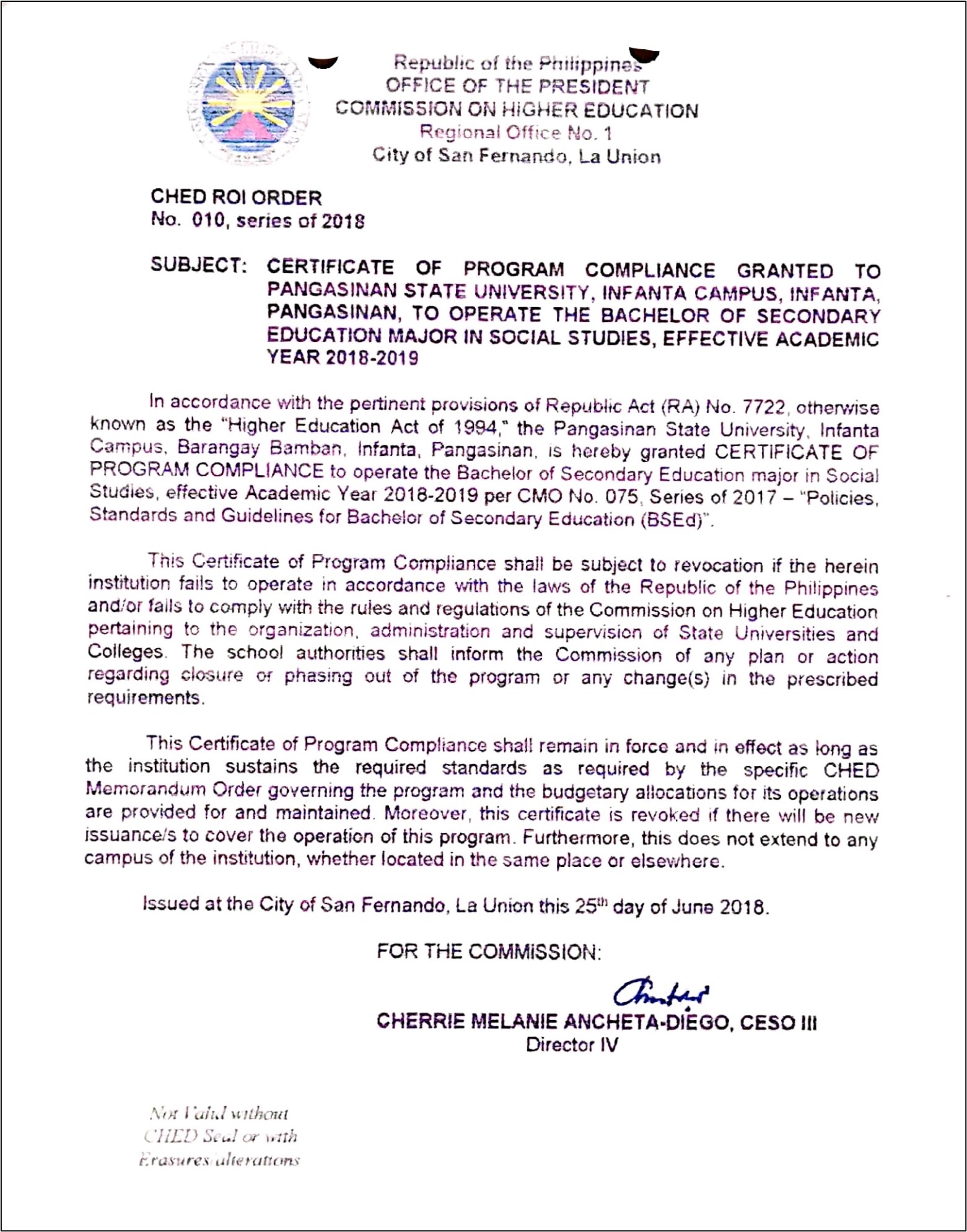 ACCREDITATION STATUS BY CAMPUS AS OF JULY 2022

Campus/ Program

Present Accreditation Status

(AACCUP – Association of Accredited

Validation Period

Date Last Accredited

Bachelor of Elementary Education (major in Enhanced General Education)

Level II Re-accredited

September 01, 2021 – August 31, 2025

August 16 – 20 , 2021

Bachelor of Secondary Education major in Social Studies

Candidate

December 16, 2020 – December 15, 2022

December 7 – 11, 2021
PICTURES DURING THE ACCREDITATION PROPER